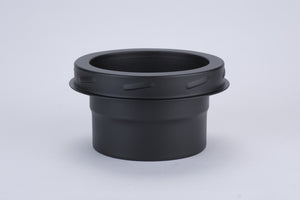 Double chimney inner diameter 150mm, outer diameter 200mm conversion adapter (single chimney to double chimney)
Use this product to convert a single chimney to an insulated double chimney.
Since the twist lock insert is hard, it is sold at a discount.
Sometimes it is hard to twist and does not turn.
There is no problem with fixing the locking band, but it is even more perfect if you fix it in 3 places with drill screws etc.
Double Chimney Seamless Welded Pipe with Thermal Insulation
It is a connection method using a twist lock system.
The inner tube is made of SUS316 with a thickness of 0.5mm, and the outer tube is made of SUS304 with a thickness of 0.5mm, and has excellent corrosion resistance.
Insulated with 25mm thick ceramic fiber.
It is a heat-resistant black painted product.
Connection can be made by tightening using a locking band dedicated to twist lock.
The single chimney will be the same as the socket connection product.